Well, after that last post you'd have expected that we had things all locked up before we went to our farewell picnic on Saturday night.
Hahaha…
The picnic was a huge success. We saw people from many different aspects of our life and shared food, memories, and hopes for the future with them. The event drew quite a crowd, as you can see from this lovely group photo: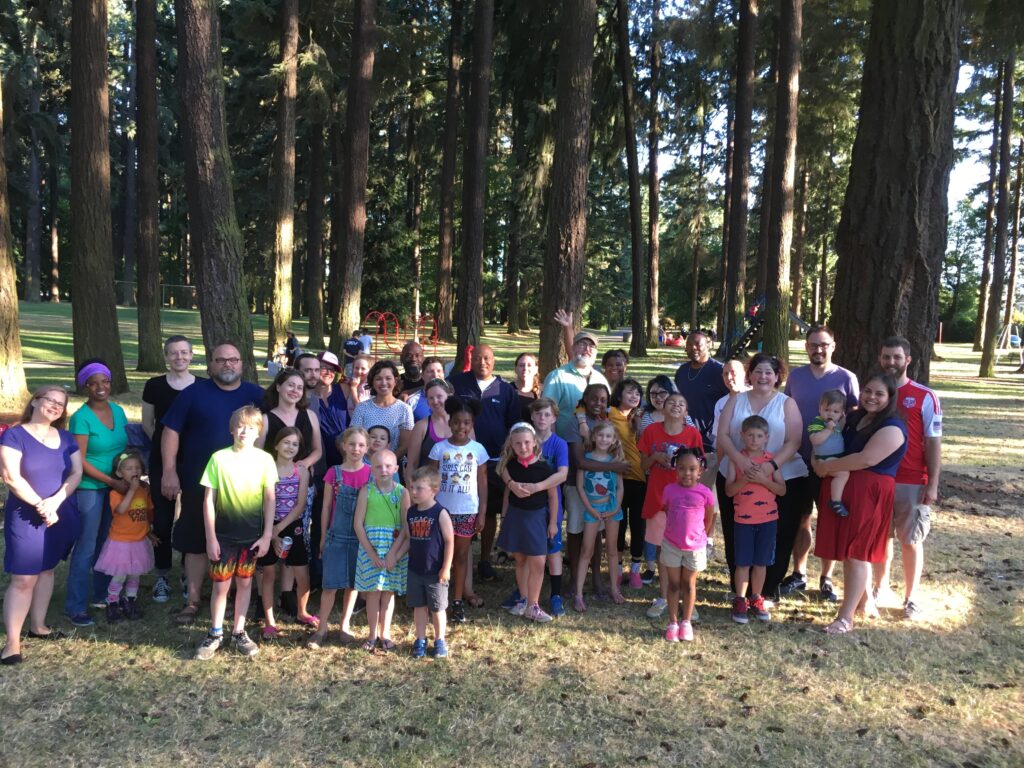 We left with huge warm feelings our hearts… and packing to do. Back at Anthony and Kat's (our friends who graciously loaned up their basement since leaving the house we'd been renting), we got the kids down and got to work on those last couple loose ends. Our flight was early the next morning, so we planned to leave at 4:30. Any guesses how much sleep we got?
Zero!
Yep, we worked the night through, stumbling and tired, but determined to get all the things packed up and buttoned away.
Our beloved friend Kat got up with us in that dark morning hour and took us in our van to the airport. (We'll be finally selling the van in September when we're back around in Oregon while getting visas finalized). Tears and hugs were shared, and then we were off to get luggage checked.
Did I mentioned we had a lot of luggage?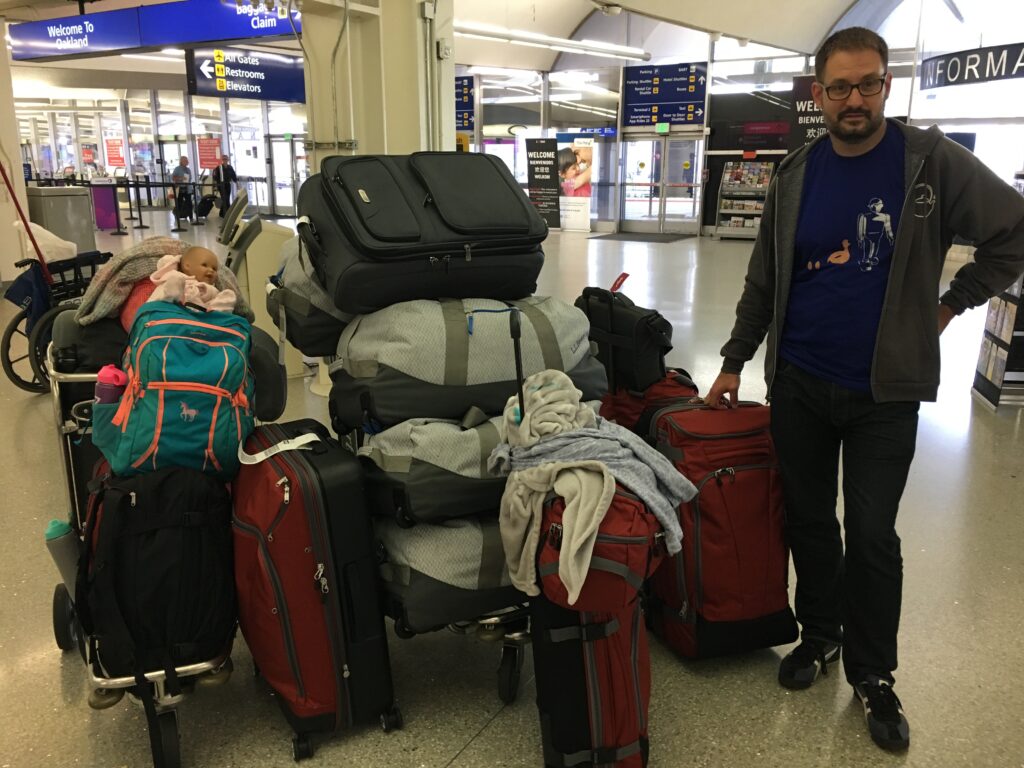 Amber did a spectacular job of keeping the bags under weight, evenly spread, and tightly packed. But moving your entire world still amounted to an impressive pile. Thank goodness for curbside check-in at PDX!
TSA Pre also paid its way handily. Even with the kids in tow, we slid past security with only one forgotten pocket knife to slow us down.
The first leg was a short hop to Oakland. By a miracle, we ended up in the first row behind business class, which meant the under-seat space was larger than average. Good thing, because our carry-ons pushed the limits of what many would willfully lug down narrow plane aisles. Before we knew it we were landed in Oakland, off the plane, and picking up our luggage.
Picking up luggage? Why couldn't they just check through? As you may have gathered from our earlier discussion on plans, things have been rather fluid around when we'd actually leave. We'd bought cheap OAK -> BCN tickets, but had been expecting/hoping to already be in San Fransisco getting our visas issued. Hahaha, nice try. So at the last we bought tickets on Alaska Airlines to cover the PDX -> OAK leg. Did those end up being on a shared airline that could check through? Nope! Thus we found ourselves back in possession of the mountain of luggage in Oakland.
No problem, we'll just wheel over to the Norwegian Air desk, check in most of it, and cruise on through the all those services behind security, right? Nope. Turns out, the front desk for Norwegian only opens 4 hours before their first flight… the 4pm to Barcelona we were on. It was roughly 9AM, we we had hours to sit with our train of luggage carts out where only one restaurant greeted us. We shuffled bags around and made use of the time, but everyone was tired, hungry, and ready to leave that airport by the time we actually checked in.
We were excited to have upgraded to the Premium Cabin on the long leg of this flight. To get the flexible scheduling and baggage we needed, Premium was only a few hundred dollars extra per person, so we splurged. Norwegian is a budget line and the equipment was clearly second hand (from Arik Air apparently?) Many of the integrated controls didn't work properly, the reclining seats clattered relentlessly when in motion, and the crew handed out iPads for the in-flight entertainment as the screens were mostly inoperable (3/4 of ours wouldn't respond to the remotes at all). But, and it's a huge but, the space was AMAZINGLY WORTH IT! I actually slept 5-6 hours on a plane y'all! That never happens, and sure helped smooth the remainder of the day after landing Barcelona.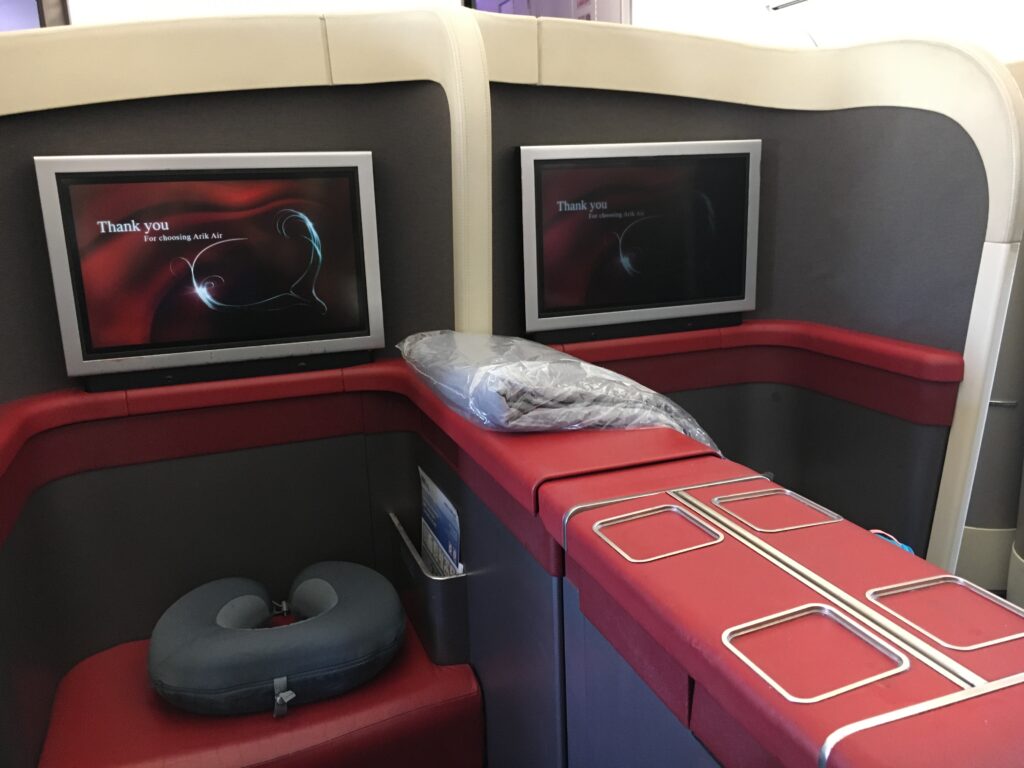 Since our flight left Oakland at 4pm, we ended up in Barcelona about noon. Customs was a breeze, and we found ourselves grabbing a taxi in the heat of the day to the high-tech hostel we're spending our first couple weeks at while we hunt for a flat.
As it was the middle of the day we did a little exploring, but I'll save that till next time and rest content that the Clarks have arrived in Barcelona!