Per the plan, on the last day of August we flew back to the United States from our newly established life in Spain. At the Spanish Consulate in San Fransisco, we had to apply–in person with the whole family–for my work visa.
Not So Quick
Leaving months behind schedule to take an additional international trip for paperwork purposes isn't quite complicated enough, though. So we layered on a bit more before leaving.
Spain has a registration process called empadronamiento. It's done with the city and most resembles a census/voter registration in the States. Importantly this lets you do things like register your children for school. We got our padron during our final week in Spain before heading back to the States. This in turn landed us at the school administration offices the morning of our 4pm flight. Combine that with missing a critical piece of paperwork (birth certificates… cue the foreshadowing), and let's say it wasn't the most stress free departure we've ever made. But we left Spain with assurances that we'd be informed of our children's school assignment soon. Tick that box off!
First Stop, San Fransisco
We flew into Oakland where our friend Megan surprised us at the airport. She had been working weeks down in the Bay Area and flying back to Portland on weekends. This weekend, though, she chose to hang out with us instead. Megan took care of our kids regularly when they were little, so it was a huge treat to spend the long Labor Day weekend with her around San Fransisco.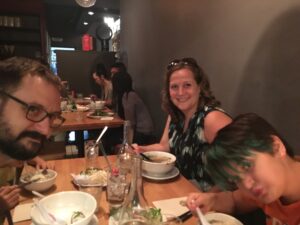 The following Tuesday was the big day: our appointment at the Spanish Consulate. We'd gathered, copied, checked, and rechecked the papers a dozen times. Honestly, I was pretty nervous. While I felt certain we'd get the process complete eventually, I really didn't want anything avoidable to get fouled up.
Sigh.
Our appointment was at 9 in the morning, so we hustled out of the hotel and caught a cab to the Spanish Consulate. It's an unassuming, relatively missable building if you don't spot the flags flying over the door. We settled into the waiting room until our names were called. Leaving the waiting room we hit the first big snag: no picture-capable electronics were allowed through. Phones and iPads all had to be stowed. We had promised the kids that the presumably long wait at the consulate guaranteed plenty of electronics time. In an instant that option evaporated. The kids viewed this, understandably, as The Greatest Injustice in the History of the World.
Sigh.
We proceeded to the window with our massive stack of papers. The woman working with us didn't seem to want all the papers at once, so we passed them through a tiny slot as required. A computer screen mere inches away from the slot made it awkward getting the papers through.
One set of the papers, FBI clearances, she held up unhappily. "What's this?" I had taken the pages apart when making the copies our lawyers had highly recommended we make. Apparently the clasp holding the sheets together was important. You-invalidated-the-document-by-removing-that type of important.
Eek.
The woman continued typing, taking papers, saying little, while I quietly melted. Here we were, two months and an extra international flight late for this appointment. Our lovely new home seemed to drift further away because of… copies? Amber says my eyes took on a flat, despairing look in that moment.
At long last, her attention returned from the computer to us. "So, you'll need to have the FBI clearance re-apostilled," (a process for certifying foreign documents) "but the birth and marriage certificates were issued more than 3 months ago. They aren't valid either."
And my despair turned to anger at the lawyers who apparently hadn't checked our documents' validity prior to the appointment.
"Oh, your company's contact information isn't fill out. You'll need to add that." Because cell phones weren't allowed inside, I ended up having to leave, look up my employer's phone number and address in Spain, write it down, then rejoin the line back in the consulate to hand it in.
Grrrr.
Northward
While we waited for a rental car to head north in, I sat in surprisingly warm sunshine scouring the internet for the fastest way to get certificates reissued. The FBI papers I'd ruined weren't too old, so I assumed we'd just have apostille them again. But the birth and marriage certificates needed a full reissue.
This wouldn't have been a problem from Portland–you can just walk into the county office and be done in an hour or so. But we wouldn't be reaching Portland for days. We'd be stopping in North Bend on the Oregon Coast to see Amber's parents, then dropping into Albany to see my parents and my brother with his family. All told, we were most of a week from being physically in Portland.
Blessings arrived, though, as a totally legit website you can order documents from if you know the right numbers (key among them a credit card with plenty of spare room haha). I jammed the numbers in on my phone, fuming as I fumbled at the too-small buttons typing in SSN after SSN into clumsy webforms. I threw money at every expedite option they presented and was assured of more status "in a couple business days."
We drove out of town over the Golden Gate Bridge, brilliantly happy to be leaving San Fransisco and wondering how these delays might impact our departure date on September 23rd.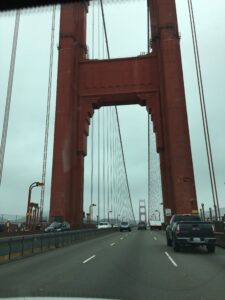 Waiting
Status web pages are a miracle of modern technology… but only when the status occasionally changes. When eventually I read the fine print, I realized the final status this website would provide basically boiled down to "We mailed it to the government."
We visited with Amber's folks, then headed toward my family with no sign yet of reissued certificates. Reaching Albany, we were only an hour and a half from Portland, so Amber drove north to just get physical copies. It was a good thing she did, because the online order took a couple more days, which would have entailed further delays.
I'd been in touch with the lawyers about getting documents reprocessed. It involved a complicated back and forth between translation and notarizing. At the last moment they refused to redo the existing FBI clearance (even though the consulate had said we could), so we threw wads of cash at that problem to make it go away.
At long last everything was winging its way, we presumed, to the consulate.
We spent a solid week in Portland, hanging out in some dear friends' basement and catching up with as many others as we could that we'd missed on our earlier departure. Funny thing, nearly twenty years in a city, you can stack up enough connections it's tough to say all the goodbyes efficiently.
The delays gave us enough space to visit Amber's family in Montana. While we were up there it became clear we weren't going to make our departure. At last we concluded we'd do something I've never done before–we simply didn't show up for a flight. Rebooking options were expensive enough that with the lack of a firm date, it just didn't make sense to try and guess any more.
At Last
I'd asked the lawyers status numerous times, but through bits and pieces I finally understood that they weren't actually hearing from the consulate either (what are we paying them for?) They were just looking up the status of our application… on a web page.
Baa-dum-bump.
We'd returned from Montana to Portland, then back again to Albany with my family. While it was a gift to get those extra days with family all along this path, by this point we were antsy to be done but unsure how much longer it would take. Would it be the next week? Two weeks? Would we know before the visa approval to plan any travel? Meanwhile September ran its course, school started in Spain (without our children there… or any word yet on which school they would attend).
Then magically, the moment arrived. An email in Amber's inbox told us our visas were approved! (Sidenote: my email address was written incorrectly as jasmclark; glad Amber was on the list too!)
Approved!
It was a Tuesday, and the consulate asked for our itinerary. Having missed our original flight, we didn't have one. But hastily buying plane tickets for Friday evening fixed that problem. This gave us enough time to reach San Fransisco, pick up papers from the Consulate, and fly!
Driving saved some money and most importantly afforded us the chance to visit the Jelly Belly Factory in Fairfield, CA as we left the country. If there's a more fitting send-off from the States than a candy factory, I don't know what it is.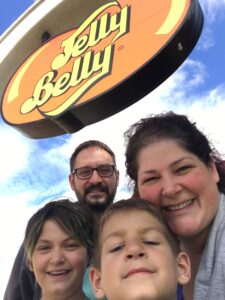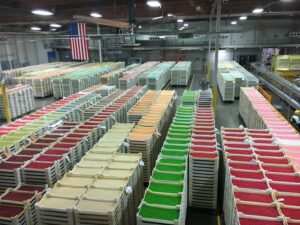 Picking up the visas didn't have a specific appointment time, so we showed up to the consulate pretty early. We gave our names and IDs, waited, expecting some a process. There were fingerprint scanners in back we'd never used, and this time we'd prepared the kids for the lack of electronics.
The guy at the front double-checked that our drivers' licenses looked like us, smiled at our kids, and gave us our passports with the visas pasted in the back. After all the waiting, the two weeks additional delay, getting the visas took about ten minutes.
Visas in hand, we drove our rental van to the airport, hopped a plane (no premium this time on short notice) and at long last were on our way home.