February in Barcelona. While not too wet by Oregonian standards, the weather was cool with plenty of gray skies. The bustle of the holidays had passed. The kids were back in school. The daily routine was settling in again. Homesickness tickled at everyone, and we were all feeling tired and stretched. It was time to recapture why we'd come all this way, why we had uprooted our lives. We hadn't really embraced one major facet of coming to Europe yet.
Travel!
Amber texted me at work "London next weekend?" and we were off.
Friday
Living in Barcelona, travel to so many places is wonderfully inexpensive. We got cheap flights on Ryanair, took off midmorning, and soon we were in Great Britain. It's worth noting that cheap flights to London often land at airports that are "in" London, but may involve up to an hour worth transit to get into the city proper. We landed at Stansted, grabbed a train, and headed in.
We stayed at the Qbic Hotel, a fun, funky spot in Whitechapel a short walk from the Aldgate Underground station. Our room was bright and reasonably sized. They even provided an extra cot so the kids didn't have to share the futon. A nice breakfast buffet greeted us downstairs so everyone could be happy with the food to start their day.
Our first activity was candy-making lessons at Spun Candy. We managed to keep it secret from the kids until we arrived. Needless to say that shook off any travel weariness and cranks. The folks from the shop mixed the hot sugar, and then we shaped our own lollipops on the warm stone tables.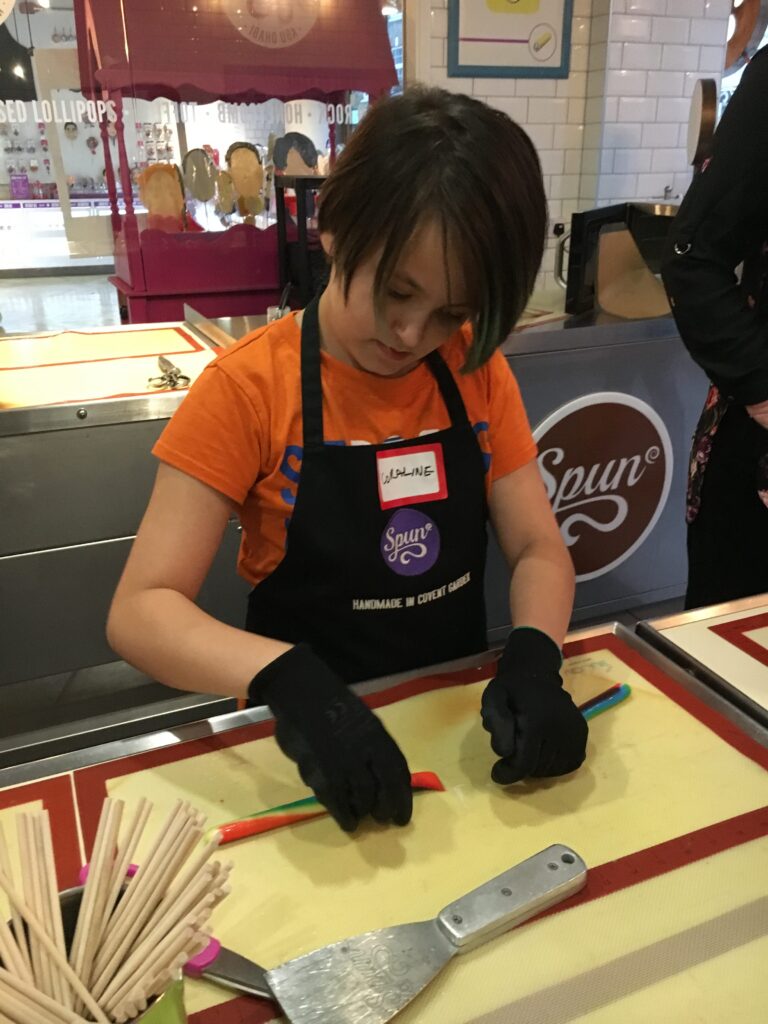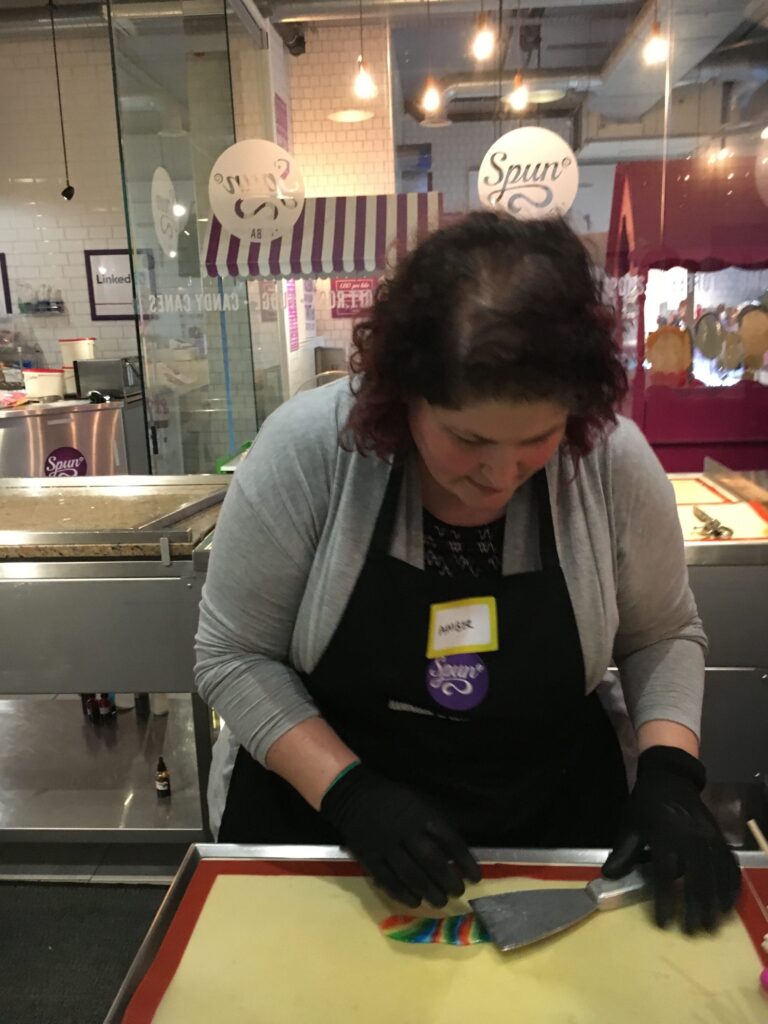 Just down the street from the candyshop was another amazing place: Xi'an Biang Biang Noodles. This restaurant hand-pulls their own Chinese noodles, and it was so up our alley both to watch and to eat. Barcelona has a lot of good Japanese, but we haven't found as much Chinese, Vietnamese, or Thai as we're used to in Portland. Exciting to find such a wonderful spot right next to the day's main activity.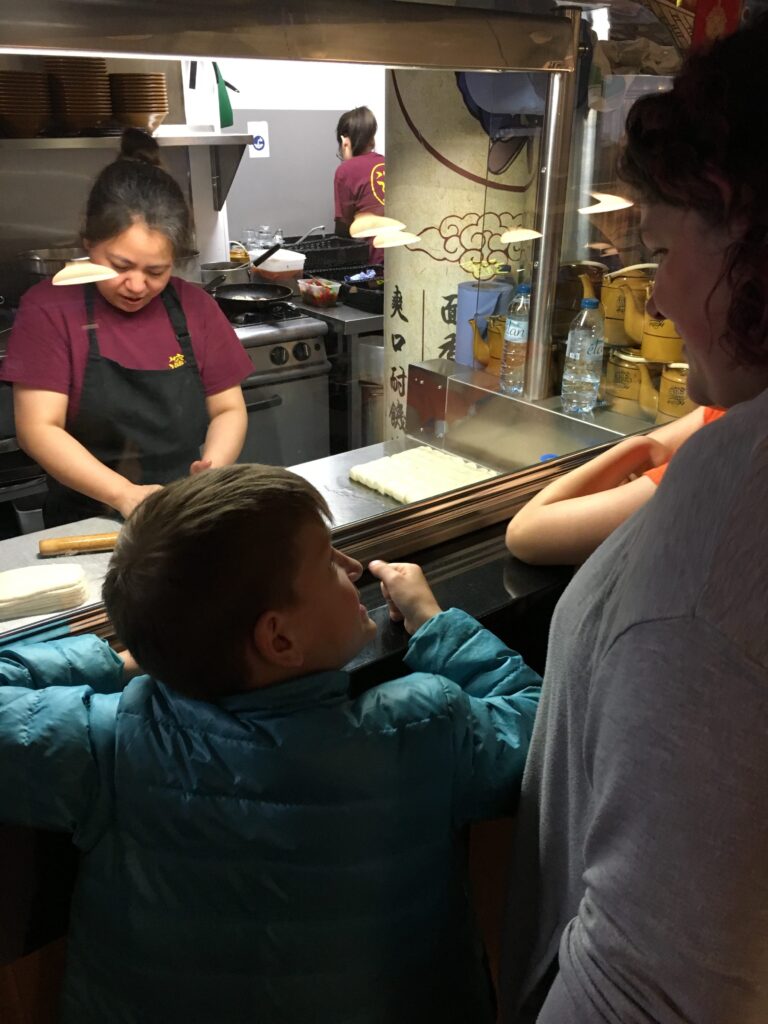 Saturday
A key lesson in traveling with kids is to not cram in too many things. Given that, our plan for Saturday was simple–visit the Tower of London and then the Diana Memorial Playground.
After breakfast we got a late start to the Tower of London. By the time we arrived the kids were already verging on "hangry," so we paused at a cafe outside. The Tower is huge, with numerous different areas to visit. We skipped the exhibit on Torture at the Tower–bit too gruesome for the kids yet–but went to the White Tower with room upon room of armor and weaponry on display.
A children's room topped the tower with computerized displays and games for the kids. This kept their interest pretty well. An unfortunately a large number of stairs were involved, though, which Amber's knee didn't appreciate. I remember distinctly sitting in this vaulted room with children running rampant everywhere, pretending at drawing bows and swinging swords and I wondered–what would this look like to someone who had lived in the Tower as an actual military stronghold? Would they be amused or dismayed at their center of power turned playground?
Late in the afternoon we caught a cab out to a playground that we'd heard about in Kensington Park: the Diana Memorial Playground. Kensington Park itself is a vast stretch of green space in the city, with tons of walking paths and grass, but the Playground takes it to a whole other level. It's entirely fenced in to provide a safe space for kids to roam. The gate in is monitored by staff. Kids can't get in or out on their own, and neither are adults allowed in without an accompanying child. There's a large scale pirate ship, hidden pockets in dense bushes, and all manner of other treasures to find. Unfortunately though, we arrived just 15 minutes before it closed, much to Asher's dismay. Vigorous promises to return were made.
Retreating from the prematurely closed playground, we managed consolation at Viet Food. The kids' top food is a runoff between McDonalds (ugh) or pho. Barcelona isn't a strong spot for hot bowls of soup. London on the other hand fed our souls with the rich broth and tasty noodles.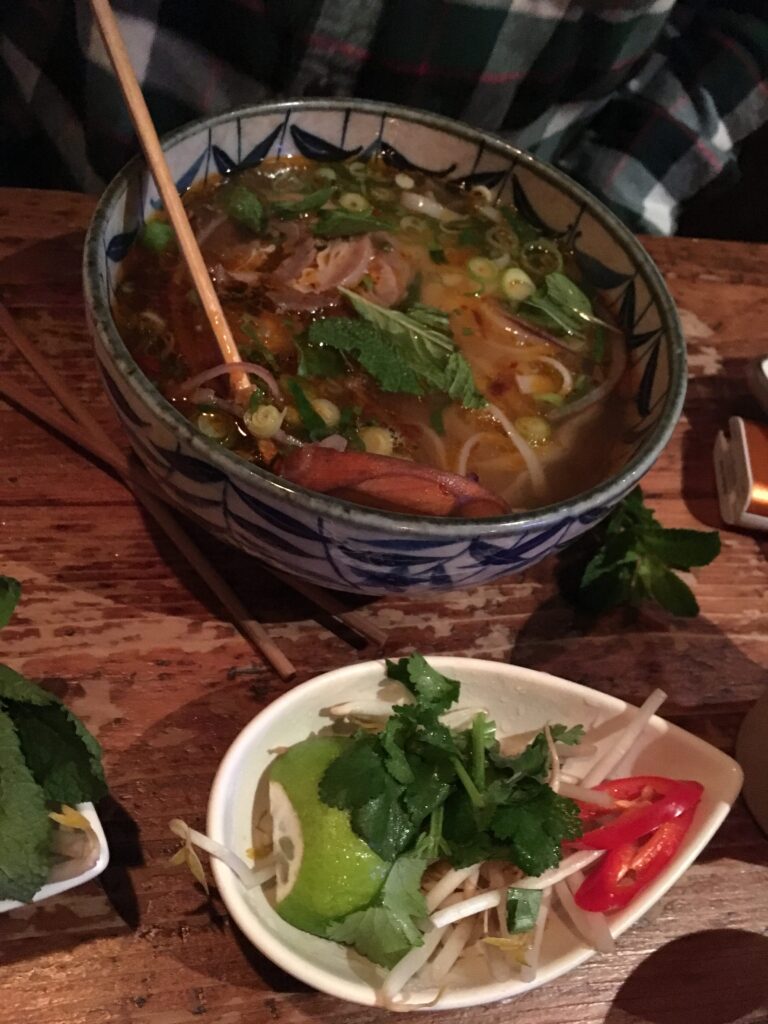 Sunday
Sunday morning we skipped breakfast at the hotel to instead trek off to one of Amber's favorite treats in London–High Tea at Fortnum and Mason. For those who haven't had the pleasure High Tea is not simply a beverage. Oh no, at its fullest expression it is an avalanche of delicious small bites, perfectly suited to go with that pot of tea. The children were astonished to learn that they could pick whatever tea they wanted, or even (gasp) hot chocolate. The tiny cucumber sandwiches on gleaming silver towers filled Cora's heart and tummy with delight, and the desserts to follow… all in all, for a slightly fancy outing it was a huge success for everyone. Amber even obtained a blend of tea that had been discontinued in the years since our last visit because they keep a massive tome with every blend they've ever created.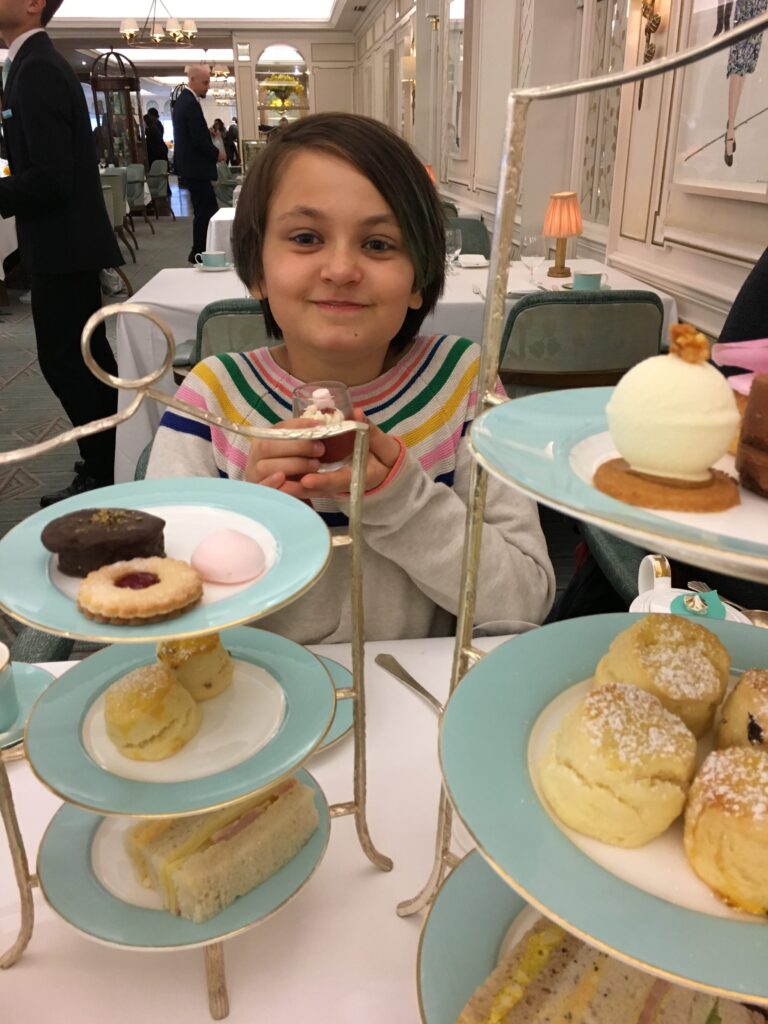 After tea we were headed back to fulfill our park promises of the day before, but ended up waylaid by a bookstore. Though it wasn't evident from the front when we stepped in, it was a giant Waterstones with multiple floors going up and up will filled with books… in English. A funny thing we'd heard from Asher's teacher was that he was perfectly happy to read in Spanish or Catalan, but refused in English because translating the letters to sounds is so much harder. Sorry about your native tongue buddy! In any case, the lovely staff there helped us find a whole pile of books at just his level about topics he'd find interesting (lots of reptiles, dinosaurs, and robots). Cora also made out like a bandit, as books are a thing we have a hard time refusing, even with our limited shelf space.
The park proved cold but Asher was not daunted and played relentlessly until we had to leave. Dinner that evening was Beijing Dumpling for lovely soup dumplings, another favorite we'd yet to find in Barcelona.
A late flight home, and we were worn but happy with our first major excursion. We hadn't accomplished all we set out to do in London, but we knew before long we could return.