As an American, the holiday season kicks off in the fourth week of November with Thanksgiving. This is not a holiday in Spain, but we bucked the trend and celebrated anyway. And what better way to enjoy the holiday than by introducing our traditions to coworkers!
The weeks before involved a lot of research into what was available in country, and what we'd have to improvise around. Turkey (pavo en español) was the biggest difficulty. It wasn't hard to find parts–a leg here, a breast there–but the whole bird was almost unheard of. But a few days before Amber found a reasonable sized one at Boqueria Market.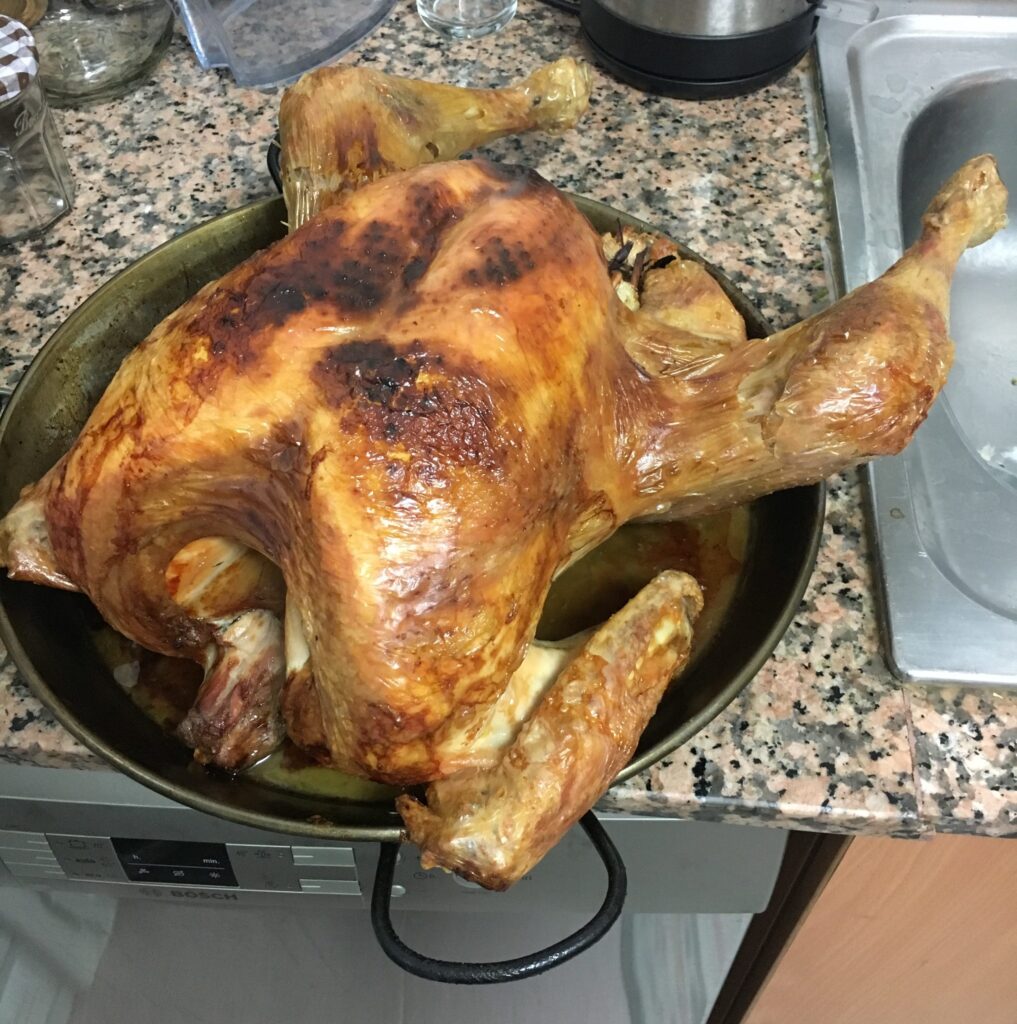 Most everything else was available–vegetables, potatoes, breads. But what about the cranberry sauce?! Taste of America to the rescue! This specialty store is uniquely American. The scent of high-fructose corn sugar slaps you across the face on entering, as more than half the store is sugary cereals and candy. But they had the goods a week before the big day. I heard they ran out closer to the holiday 😰. This allowed Amber to introduce the wonders of American cranberry sauce to our friends amidst gales of laughter.
We invited the team I've been working with at New Relic BCN. Among those who made it were an American couple, an Irishman, and a ton of Spaniards. I was pleasantly surprised by everyone's enthusiasm leading up to the event. It turns out, American Thanksgiving is commonly seen in movies and pop culture but faintly mysterious beyond that. What is this pumpkin pie? What does stuffing taste like, or is it called dressing? This proved an excellent chance to lift the veil on this American tradition.
We also pushed the max capacity of our flat for a sit-down meal. There were about 16 people, every scrap of table space filled with boisterous conversation, good Spanish wine and charcuterie, galician treats, and American classics.
The holidays have definitely made us more acutely aware of the normal connections with family that we're missing out on during this grand adventure. But in the end, sharing this tradition with our new friends was absolutely something to be thankful for.